NetCIL CARES Act Configuration and Reporting
Applies to:  NetCIL Manager
Updated: 12/17/2020
The CARES Act of 2020 has impacted reporting requirements for the HHS 704. Beginning with version 2.04, NetCIL Manager has the capability to properly report or exclude CARES data on the HHS 704, once your NetCIL system is properly configured and data is collected. The following instructions describe the steps that must be taken.
Ensure that you are using version 2.04 of NetCIL Manager. If

you're

using NetCIL on an Amazon virtual server, your software is updated by us. If

you're

running NetCIL Manager on your own systems, you may need to manually update; Recent changes to our application-delivery servers mean that you may not automatically receive the "New Version Available" message when you launch the NetCIL Manager application. Current versions of all NetCIL applications are available in the downloads section of the NetCIL website: https://netcil.com/Downloads.aspx
Launch NetCIL Manager, and if you have not done so already, select

Config..

Grants:
<![if !vml]>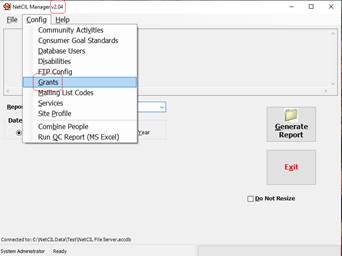 <![endif]>
Enter a CARES grant record as shown

below, and

ensure that you specify CARES in the Department field. The Grant Name field contains the text that will be displayed in dropdown boxes on NetCIL forms. If you previously entered a CARES grant record, simply edit

it

and ensure that the Department field is set to CARES.
<![if !vml]>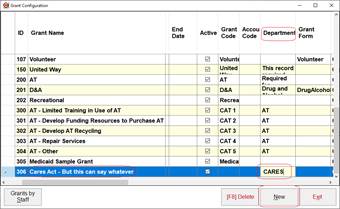 <![endif]>
You can enter as many CARES grant records as you wish; Only one is required.
Using NetCIL Client, enter a grant intake record for all consumers who receive CARES act benefits ($Grants/Progs button on the People form). The intake date is for your own reference. Leave the Inactive Date field blank.
<![if !vml]>

<![endif]>
When recording the provision of services for both consumers and non-consumers,

 

enter records via the Notes or the Referrals form, and specify Grant Type as shown in this example:
<![if !vml]>

<![endif]>
Using NetCIL Manager, select 704 Report from the

reports

dropdown list, and set other parameters as desired. Service records for the specified period will either be included or excluded from the report based upon your selections.
<![if !vml]>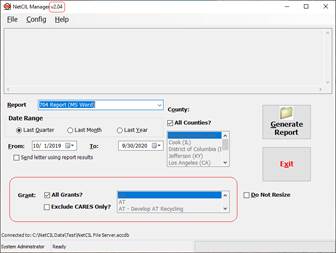 <![endif]>
Version 2.04 allows you to specifically exclude CARES grant recipients and services, but it also allows you to selectively include or exclude any number of grants when generating a 704 report. To do so, uncheck the

All Grants

box and, while holding the Ctrl key, select grants from the list as shown below.
<![if !vml]>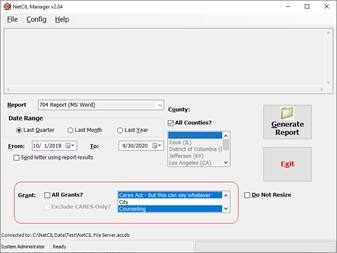 <![endif]>
If you have questions or need further assistance, please contact us.