NetCIL/CFAL Client New Features
Updated: 5/7/2019
Quick Links:    NetCIL Client   NetCIL Manager   NetCIL IRLog
NetCIL Client Software Update Instructions

Return to netcil.com
NetCIL Online applications are updated automatically.  Version information applies to companion NetCIL Desktop applications. Desktop users will be prompted to download and install updates when they become available. You can always perform a manual update by running NetCIL Manager and selecting "File...Check for Updates".  For more information click here.
NetCIL Client Version 1.995                                    
Release date May 6 2019                                                    
Support for Medicaid Billing. Follow this link for more information.

Enhanced protections for records with duplicate phone numbers

Expanded New Contacts for Period Report (requested by Parent-to-Parent)

Tracking of "At risk for nursing home placement" in the Housing form.

Automated data cleanup – Runs whenever a Level 10 user exits NetCIL Client.

Bug fix for cumulative statistics in Goals Completed reports.
NetCIL Client Version 1.993                                    
Release date February 19 2018                                                      
Support for Parent-to-Parent Staff Performance Report.

Addition of a control to quickly retrieve the Anonymous record in the People form.

Minor bug fixes.
NetCIL Client Version 1.99                                      
Release date July 2 2017                                                     
Support for HHS 704 5th core service.

Document management for projects.

Fixed group case notes bug when multiple users post simultaneously.

Fixed bug where closed grants in grants-by-staff appeared in new referral records.

Improved fault tolerance for invalid characters in name fields.

Stricter data checks when non-"user knows best " users attempt to overwrite existing name fields.
NetCIL Client Version 1.98                                      
Release date February 4 2017                                                        
Improved data replication and automated replica data encryption.
NetCIL Client Version 1.974                                    
Release date November 30 2016                                                    
Added attendees to Staff Performance Report Work Log tab (Michigan request).

Filters grant list by staff when entering new records if configured in NetCIL Manager (

Config

… Grants… Grants by Staff)
NetCIL Client Version 1.971                                    
Release date September 12 2016                                                   
Improved logic for posting and editing group case notes – Corrects an issue when posting a note with both Work Log and Week Log forms open.
NetCIL Client Version 1.97                                      
Release date: August 27 2016                                                         
Improved logic for closing goals/grants when deactivating consumers.

Compatibility-tested with Office 2016 and Office 365

Support for Windows 10 Quick Assist
NetCIL Client Version 1.96                                      
Release date: June 1 2016                                                   
Auto-correction of consumer activation / deactivation data records.

Addition of Medicare/Medicaid Reporting.

Addition of Funding Codes to the Services and Work Log tabs of the Staff Productivity Report.

Ability to deactivate Ethnic Codes and Language Codes on all forms.

Bug fix to the "Send Letters

 

to New Consumers for Period" function.

Minor Parent-to-Parent form changes.

Error when specifying a goal outcome without and end date changed to a warning, except for dropped goals.

Addition of service (if specified) to open appointments and referrals on Main form.

Improved query import / export: New version prompts for custom query import, only changed custom queries are exported.

Bug fix for Work Log search functions – Previous versions allowed lower-level users to search and return records for all users.

Minor issue with recurring events in the Outreach form has been corrected.
For more information click here.
NetCIL Client Version 1.93                                      
Release date: December 17 2015                                                   
Ability to manage organization documents as was previously available for consumers.

HIPAA compliance check has been added to the ILP Checklist.

Version 1.91 contains a minor modification to the Excel referral report – Referred to and written-by records are all return when an individual user is selected

Version 1.92 changes staff referral dropdown list on Parent-to-Parent Referral form to filter by active users – Parent to Parent only

Version 1.93 changes referred-to dropdown list on Parent-to-Parent Referral form to add support parents – Parent to Parent only
Previous changes in versions 1.8x:
Added grants to service detail tab of the Staff Performance Report.

Addition of System Barriers that can be associated with Consumer Goals (State of Michigan Initiative).

Improved indexing allows reports to run 25% faster.

Performance improvements for much faster replication and synchronization.

  

Enhanced quality control warning messages for invalid dates, missing data.

                      

              

 

Demographic changes to allow age calculation for deceased individuals (New York Parent to Parent initiative).

                               

              

 

Minor Staff Productivity Report bug as well as an Office 2016 color display issue.

           

              

 

              

 

Correction of an hours display issue and a group case notes display issue that affected some systems, plus it has enhanced sample queries.

Improved tab sequencing on the Main form for screen reader users.

Added DBID to mail list Excel export.

Fix for a bug in the referral form for Parent-to-Parent Support Parent contact types.

     

Fix for a bug in hours list for values > 12 and change in goal reports to show goals with no associated Significant Life Area.

Fix for an issue with processing correspondence that affected some installations.

         

              

 
NetCIL Manager Version 2.00
Release date: June 30 2017
Updates to California CILR Report

Addition of OHIO SPIL Report
NetCIL Manager Version 1.99
Release date: December 12 2016
More improvements for Office 2013, 2016 and Office 365 compatibility.

704 county and age calculation improvements (based on transactions within a report date range), and a new Michigan Quarterly Report.
NetCIL Manager Version 1.96
Release date: August 3 2015
Optimized for faster report generation in Office 2013 and 2016.

State of South Dakota reporting changes.

Parent-to-Parent reporting changes.
NetCIL IR Log Version 1.42
Release date: March 8 2012
MS Excel reporting capability added.
A brief summary of changes in NetCIL Client Versions 1.8 and CFAL 5.8 is given below.
You can associate System Barriers to individual consumer goals. The System Barriers concept was introduced in the State of Michigan to enhance their data collection and analysis capability along with their excellent Outcomes Model, which is now an inherent part of the NetCIL application. For more information about how to use the model in your center, please contact the Michigan SILC.
If you don't want to use the System Barriers capability, you can of course disable its functionality, as you can any function in the NetCIL system, by following these instructions.
<![if !vml]>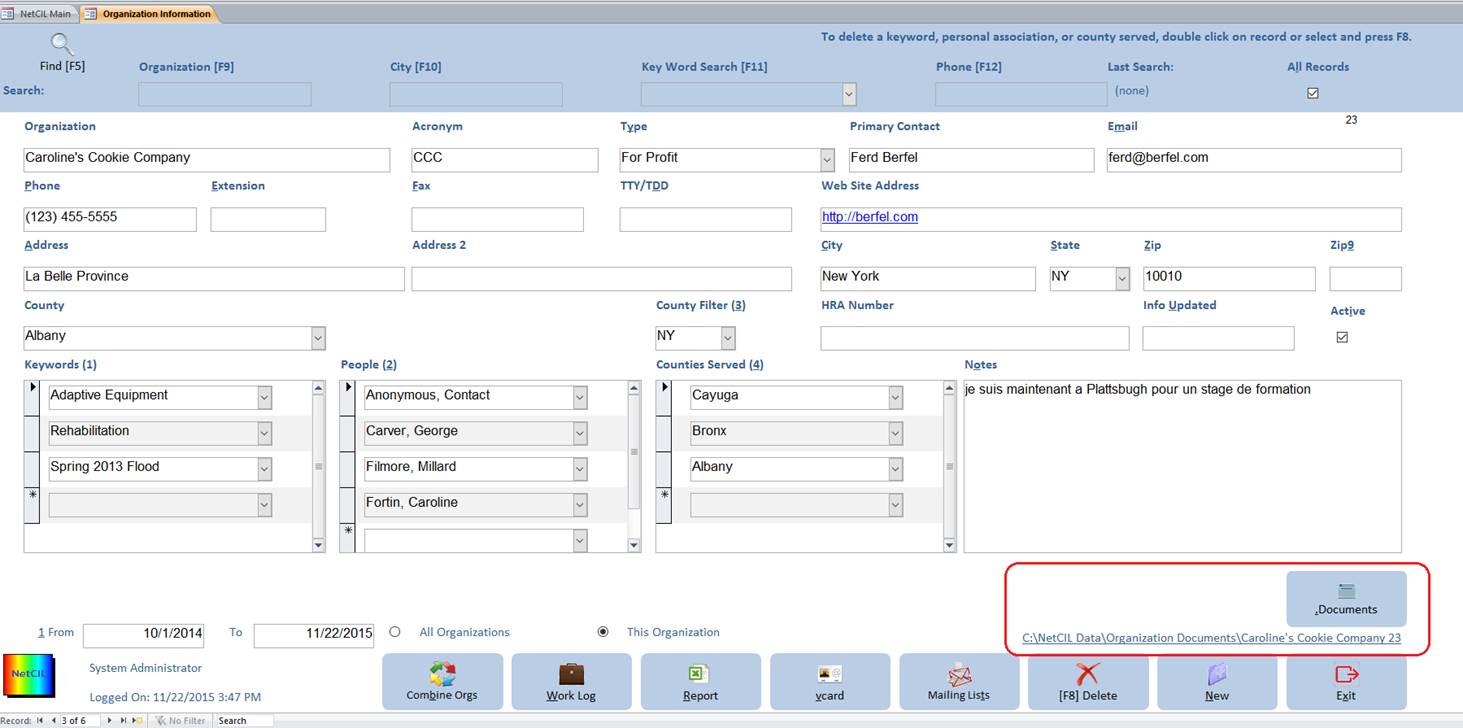 <![endif]>
<![if !vml]>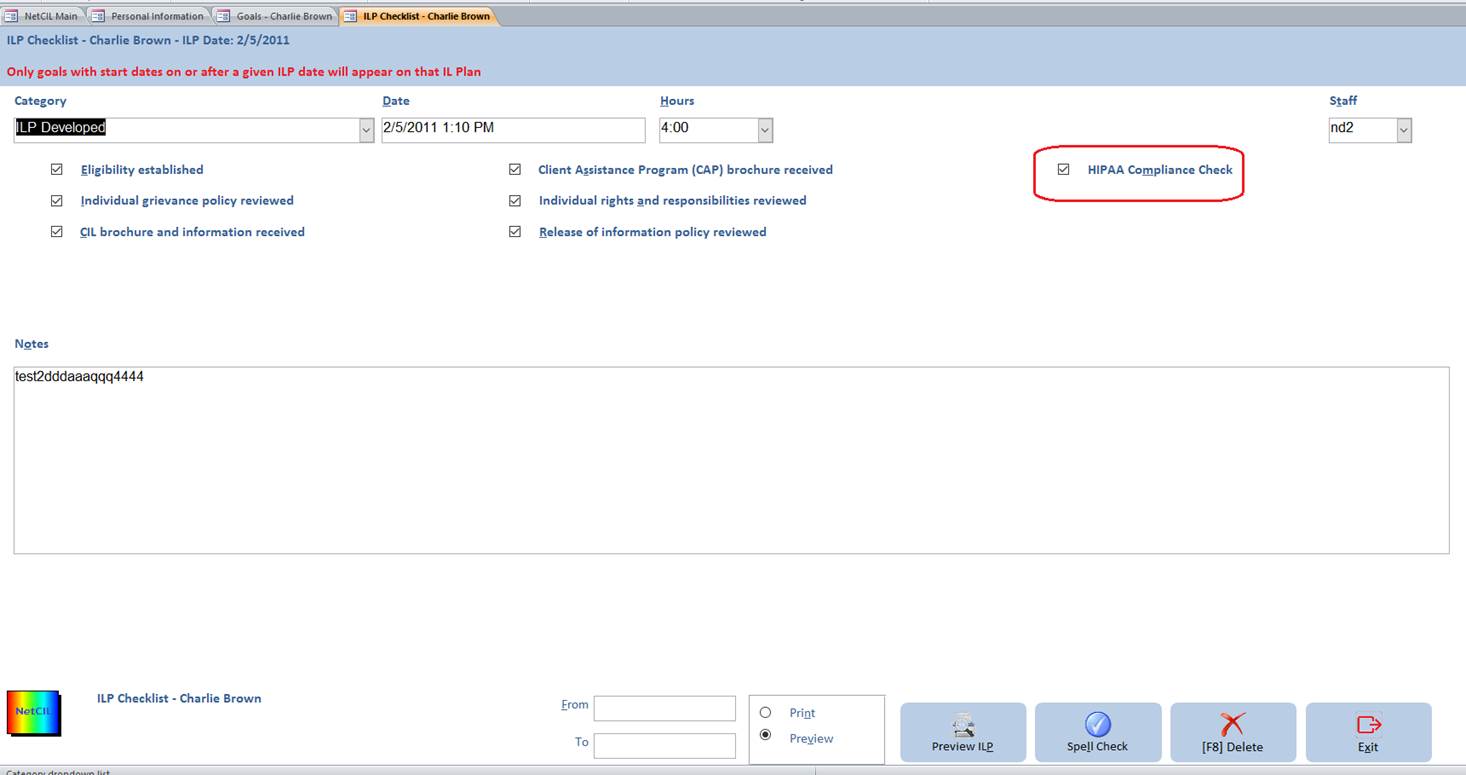 <![endif]>
<![if !vml]>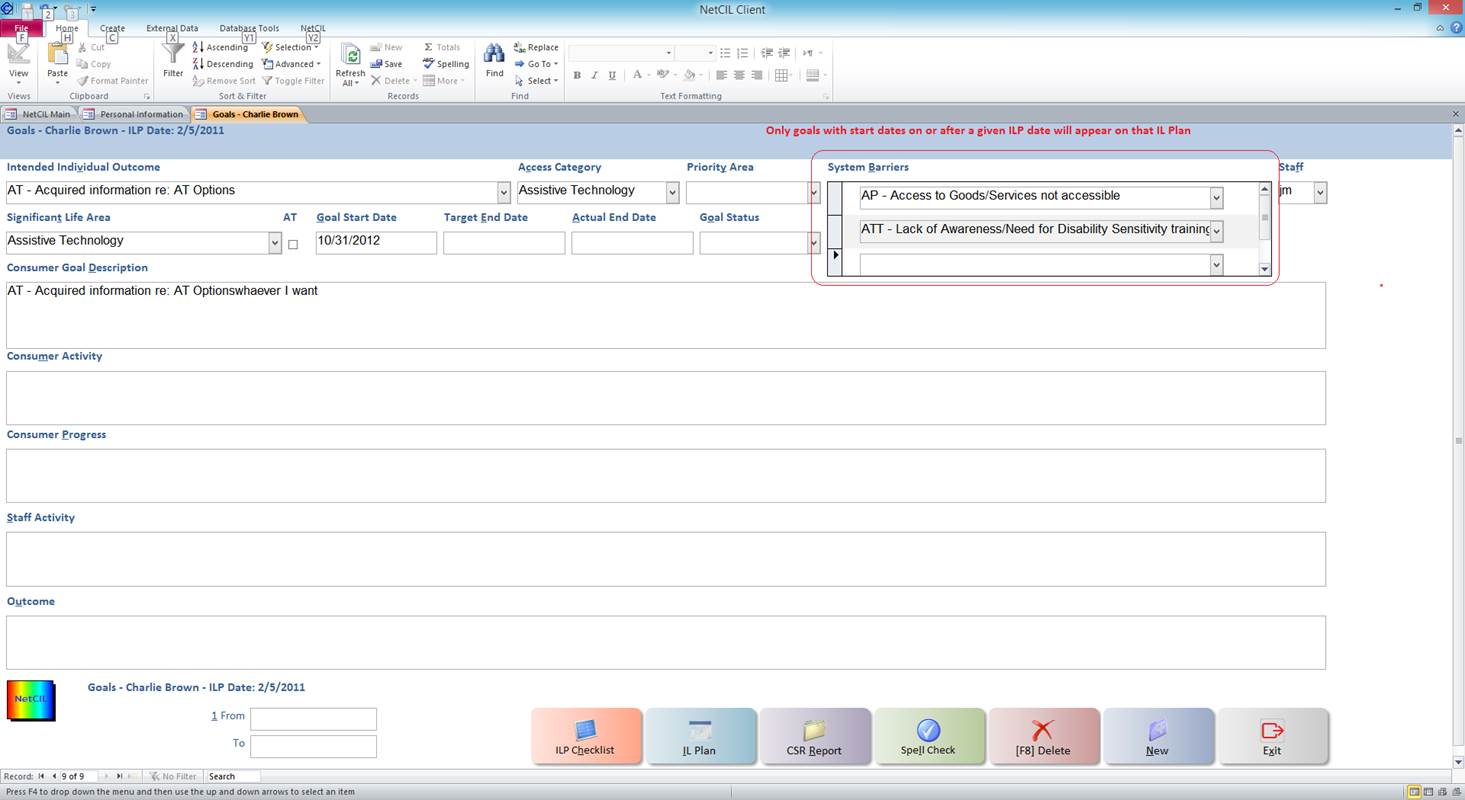 <![endif]>
Any individual can be marked as deceased by opening Notes then selecting New… Category "Profile Change", then selecting "Died" from the "Profile Change Category" control. For deceased individuals, age calculations will then use the date field of the note rather than the current date. These calculations are need by Parent to Parent organizations for matching purposes, but can be used by any agency for any individual. If you use this procedure for a consumer, the category will automatically be changed to "Consumer Deactivates" and standard logic for deactivation of a consumer will be used.
<![if !vml]>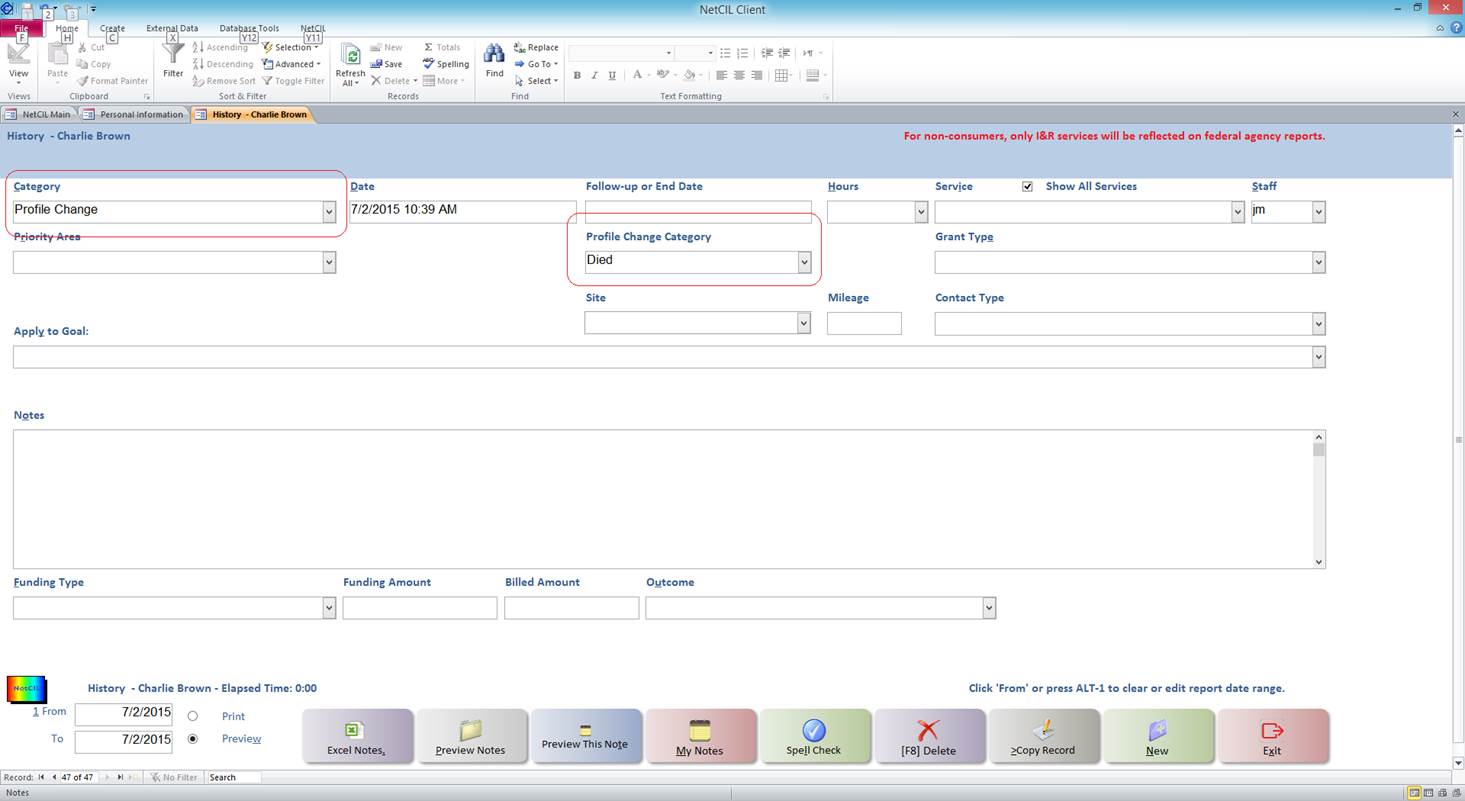 <![endif]>
The age of deceased individuals will be marked in bold red. Screen reader users will receive a pop-up message when their cursor lands in the date field.
<![if !vml]>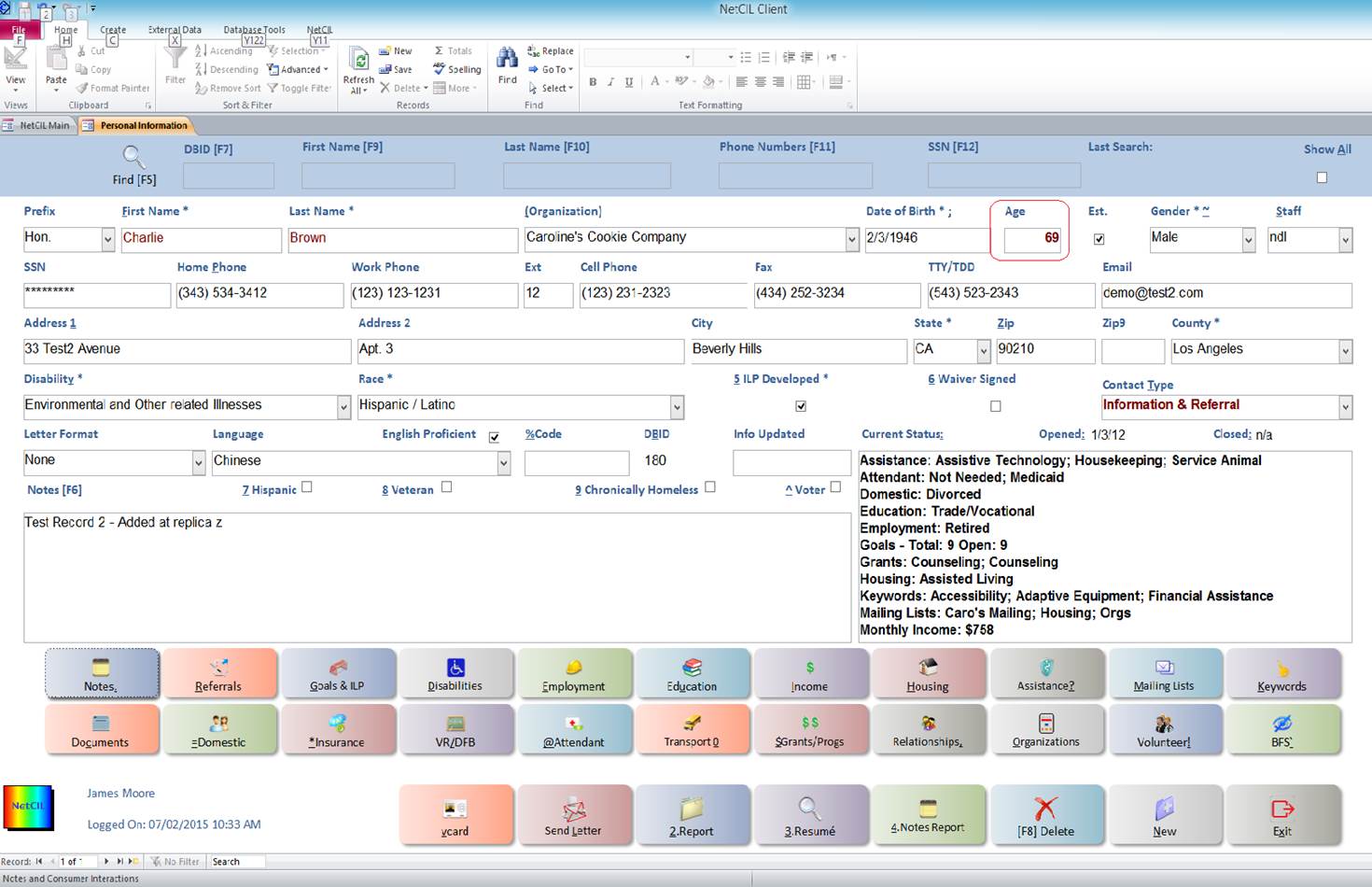 <![endif]>
You can easily display all current consumers by selecting the "consumers" icon from the NetCIL Ribbon.
If requisite data for a consumer is missing, or if duplicate disabilities are listed, the status box will generate a warning message in bold red.
<![if !vml]>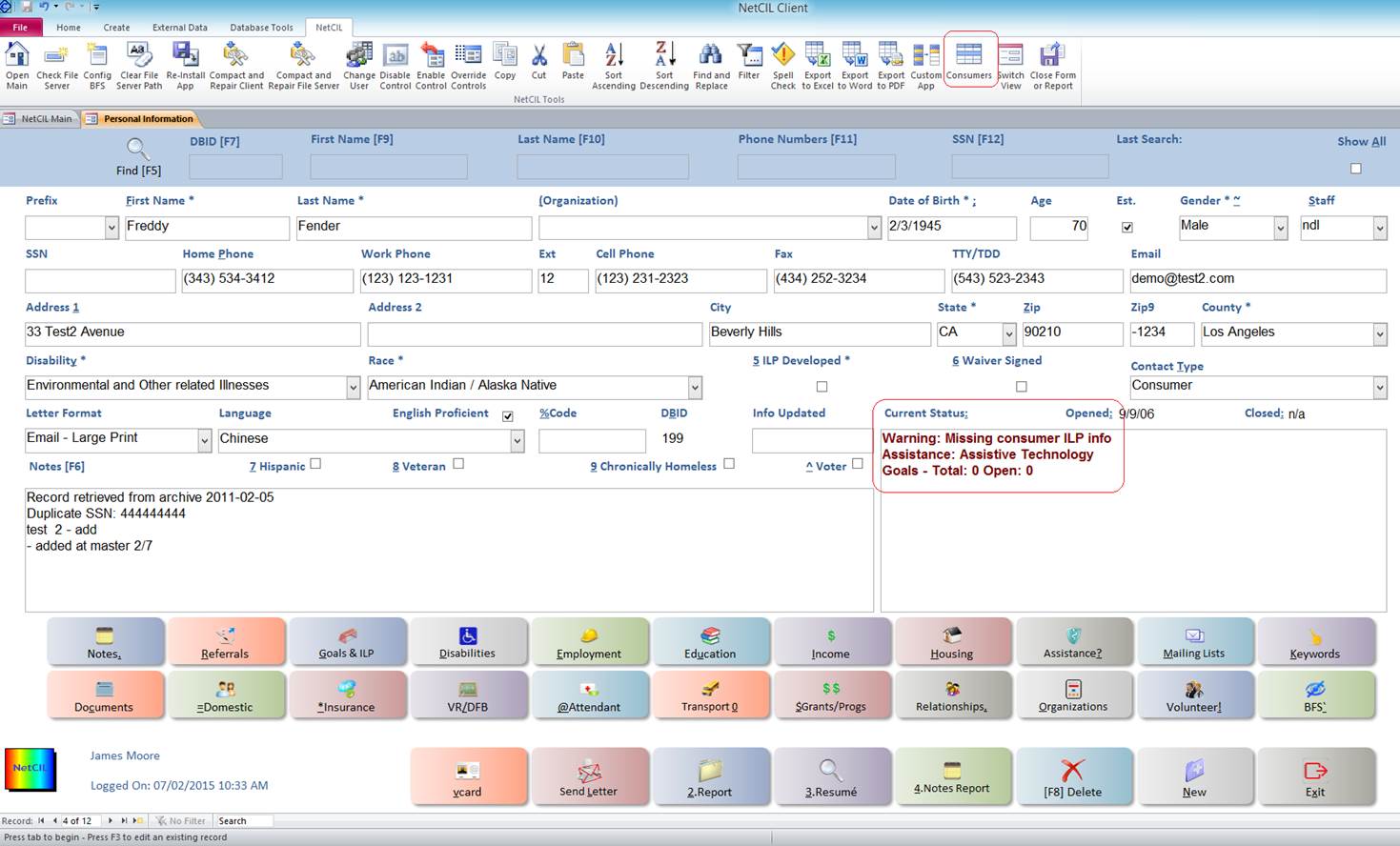 <![endif]>
When using a replica database, users will now see an "Update" field in the upper left corner of all consumer forms. A check in the "Update" box indicates that data has been changed, and that this data will override data in the master database when a synchronization is performed. If you wish, you can un-check the box, and the associate data will not be synchronized. This capability can be useful if you know, for example, that address changes are being made in the main database, and you don't want to override those changes with any edits that you make. Unchecking the "Update" field will not affect updates to other records or tables. For example, if you un-check the "Update fields in the People Form for Charlie Brown as shown here, any case note entries and edits that you've made will still be synchronized ,unless you specifically un-check the update field for those records as well.
Level 10 users have access to a query named "Config Changed Demographics". Other users can create a spreadsheet of changed demographics by selecting the "Synchronize" button on the NetCIL Client Main screen. These features are only available when you are connected to a replica database.
The synchronization process has been streamlined and its performance has been greatly enhanced. Screen reader users can create a replica and synchronize with just a few simple keystrokes.
<![if !vml]>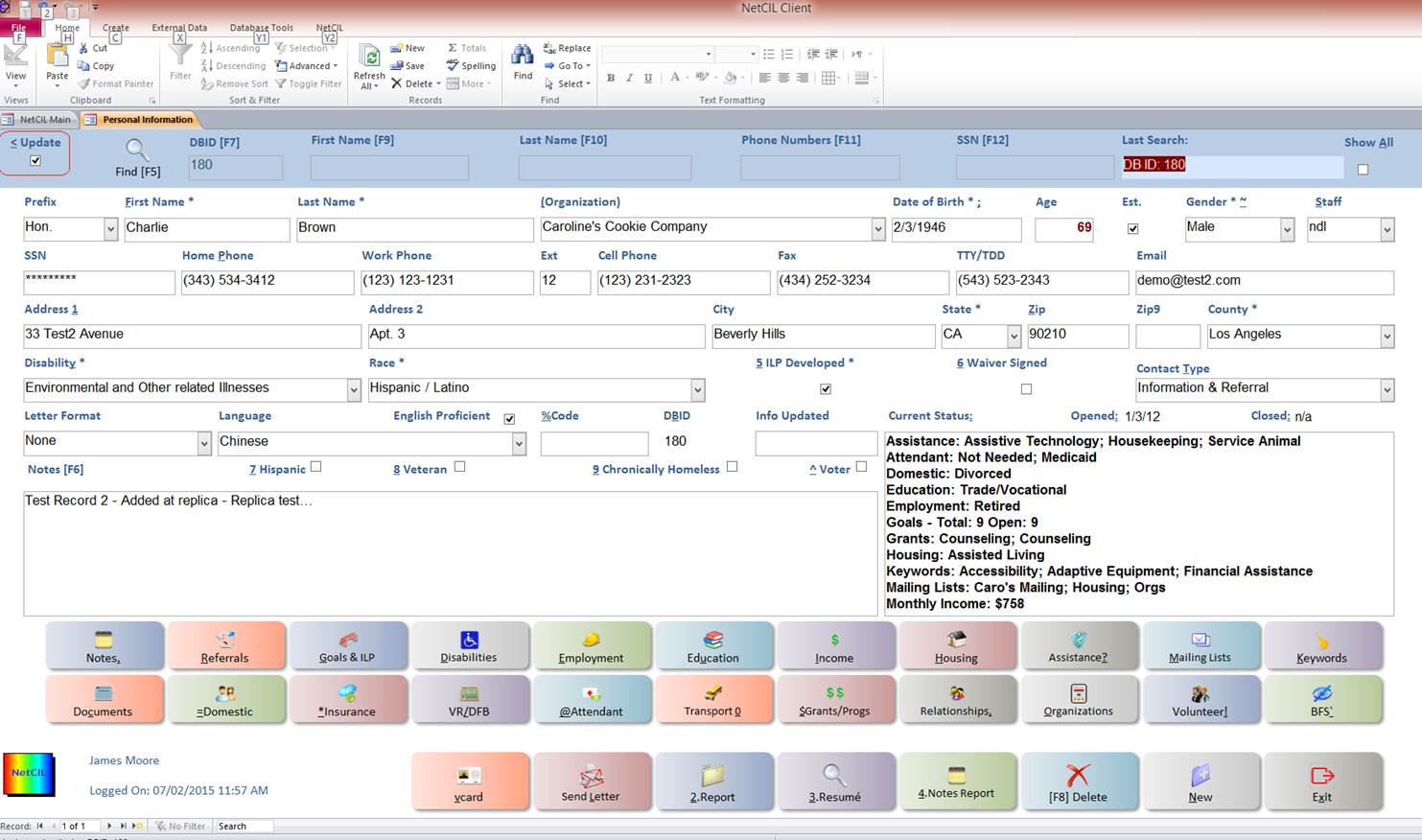 <![endif]>
A consumer should only have a single "Person Becomes Consumer" record, and it should be written when an individual is first enrolled as a consumer. Subsequently, if a consumer de-activates and then re-activates, "Individual Becomes Inactive" and "Individual Re-activates" records should be written. It was discovered that some users erroneously entered "Person Becomes Consumer" records upon reactivation; doing so caused some minor errors in reporting statistics. Version 1.95 ensures that the correct sequence is always used. "Person Becomes Consumer" records can only be written once; subsequent attempts to enter those records will result in an automatic change to "Individual Re-activates". The correct sequence is shown below. Upon installation of version 1.95, legacy data will also be auto-corrected.
<![if !vml]>

<![endif]>
To track and report Medicare / Medicaid services, follow these steps:
<![if !supportLists]>- <![endif]>Ensure that you have entered records that contain the words "Medicare" and / or "Medicaid" in the Insurance Codes table as shown below.
<![if !vml]>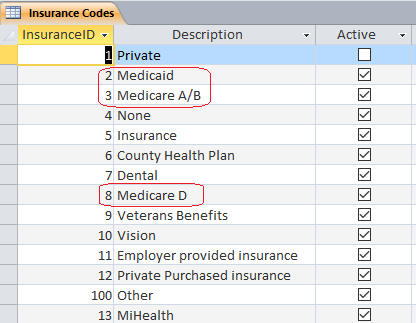 <![endif]>
<![if !supportLists]>- <![endif]>Enter Insurance records (Alt-*) from the People form as shown below (in datasheet view):
<![if !vml]>

<![endif]>
<![if !supportLists]>- <![endif]>Create a "Medicare/Medicaid" report from the Excel Reports section of the Reports Form:
<![if !vml]>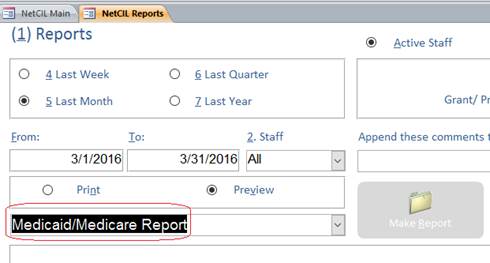 <![endif]>
Medicaid Billing Instructions (Version 1.995)
Any record in the History Codes table that contains the word "Medicaid" in the "Type" field will be treated as a "Medicaid" record:
<![if !vml]>

<![endif]>
The two date field labels will change to read "Start Time" and "Stop Time". You can enter either a stop time or a start time and hours value; The remaining value will be calculated. Both values will update if either value is edited. The value in the "Hours" drop-down list will always round to the nearest fifteen minutes. If (and only if) you have configured a Grant Code record with a Grant Code field labelled "Medicaid" (not case-sensitive), Grant Type will automatically select that record upon initial entry.  If (and only if) you have configured a Funding Code record with a Funding Code field called "medicaid" (not case-sensitive),  Funding Type will automatically select that record upon initial entry, and Funding Amount values will be filled in, if configured:
<![if !vml]>

<![endif]>
<![if !vml]>

<![endif]>
NetCIL Client Software Update Instructions
NetCIL Online users automatically have access to the new application. For all other NetCIL / CFAL users, NetCIL Desktop Client Version 1.8 is now available for download.  If you choose to install it, please be sure to follow these procedures:
Ensure that you create a backup copy of your data. You can easily send an encrypted copy of your data to our secure server by running NetCIL Manager…File…Transmit Data to ED2C.
Ask all other users to temporarily exit any NetCIL applications.
Run NetCIL Manager. You should receive a message that a new version of NetCIL Client is available. You can also select File…Check for Updates… and then manually download the installation files.
After the download is complete, Run NetCIL Client. You should receive a "New Version" message. Allow the update to proceed.
After a successful installation, the application may tell you that your file server needs to be updated; you must allow it to do so before proceeding. This process only needs to be performed once.
Once the initial installation is complete, other users can run NetCIL Client. When they receive a "New Version" message, they should allow the update to proceed.
You can always download and run the 32-bit or 64-bit versions of the NetCIL Desktop Client installation files from the NetCIL website:

 

http://netcil.com/Downloads.aspx
For installation assistance, or to provide us with feedback, please write to techsupport@ed2c.com or call us toll-free at 888-678-0683 x0.