CFAL & NetCIL Blind Field Services Data Collection Protocol
For use with Department of Education RSA Chapter II (BFS) Reports
Revised: 9/4/2013
<![if !supportLineBreakNewLine]>
<![endif]>
Before proceeding, ensure that you are using NetCIL Manager Version 1.85 or above, NetCIL Client or CFAL Client Versions 1.44 or above, and that your database has been properly configured.
Run NetCIL Manager, then select Alt-C, Alt-G to open the grants configuration screen:
<![if !vml]>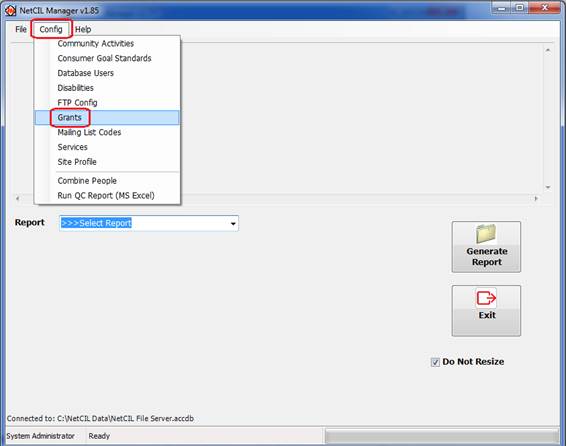 <![endif]>
"Grant Name" can be any name that is meaningful to your organization. "Grant Code" must read "BFS", and the grant must be active. Select "New" (ALT-N) if necessary  to create a BFS grant record:
<![if !vml]>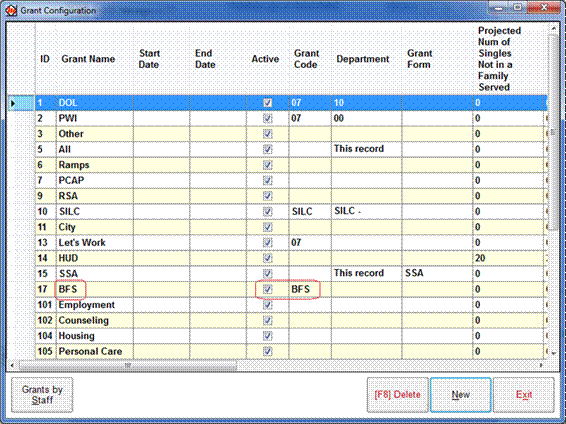 <![endif]>
Run NetCIL Client, select the NetCIL Ribbon, and then select "Config BFS" (ALT (release) Y11 and then Y4). You will be prompted by a function that will ensure that your BFS table configuration is correct. There is no harm in running the function more than once.
<![if !vml]>

<![endif]>
To record the provision of BFS services:
<![if !supportLists]>1. <![endif]>Retrieve an individual's record from the People Form, and then select Notes.
<![if !supportLists]>2. <![endif]>Write a new record, and record the time spent in the "Hours" dropdown list.  Note that all times are rounded to the nearest fifteen minutes.
<![if !supportLists]>3. <![endif]>Select a Service from the dropdown list that most closely defines the work that has been performed.
<![if !supportLists]>4. <![endif]>Select Grant Type "BFS".
<![if !supportLists]>5. <![endif]>A list of corresponding BFS Services and possible BFS Outcomes will be presented. Record data as appropriate.
<![if !vml]>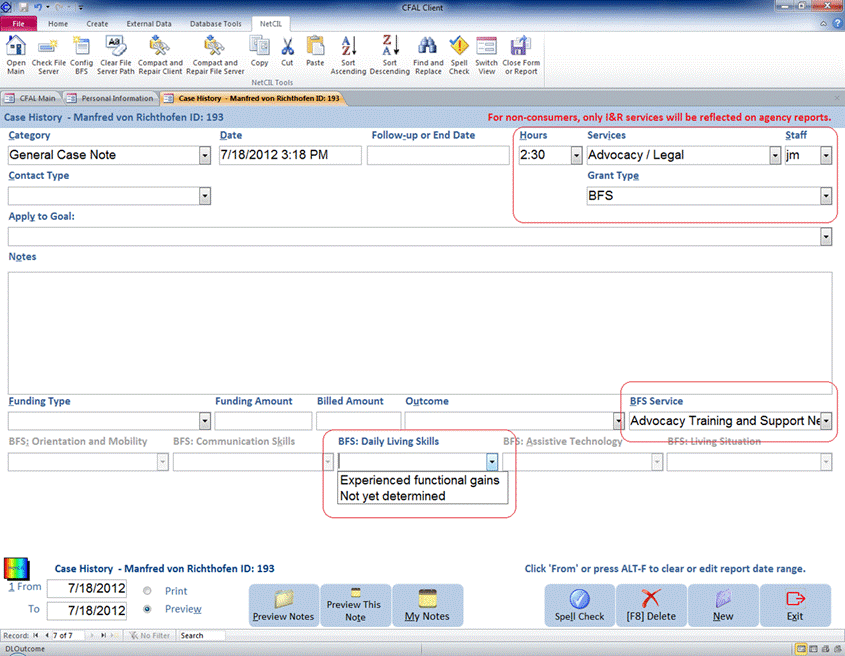 <![endif]>
<![if !supportLists]>6. <![endif]>Select a CA BFS Monthly Report (California only), or an RSA Title VII Chapter 2 Report as appropriate in NetCIL Manager, and specify the desired time period. Only the most recent outcome that falls within the date range will be reported for each consumer in each category. You can also create an RSA Title VII Chapter 2 Detail Report in MS Excel. The workbook will list all reportable transactions and demographic information that comprise the corresponding Chapter 2 Report.
<![if !vml]>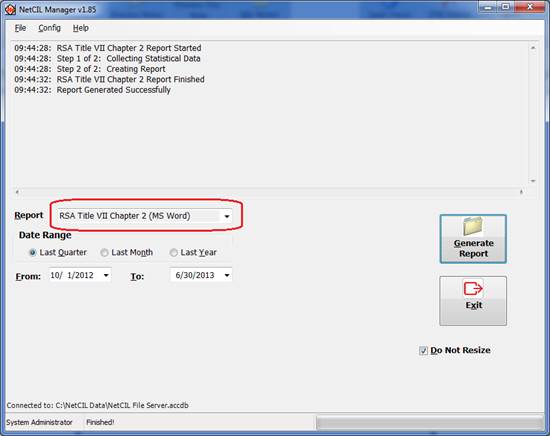 <![endif]>
For more information on any of the topics covered in this document, please refer to the NetCIL Client User's Manual. A current copy of the manual is available from our website by following this link: http://help.netcil.com.
For additional assistance please contact ed2c technical support toll-free at (888) 678-0683 or by sending e-mail to techsupport@ed2c.com.